Hood River
The Hood River Property covers 8,015 hectares in Nunavut, northern Canada, through a 20-year renewable Mineral Exploration Agreement ("MEA") dated June 1, 2013, issued by Nunavut Tunngavik Incorporated. The Hood River Property is located approximately 523 kilometres ("km") north-northeast of Yellowknife, NWT, and 125 km west of Bathurst Inlet. The Hood River Property is located immediately adjacent on three sides to the Ulu Property ("Ulu") and 115 km north of the Lupin Gold Mine.
The Hood River Property covers a uniquely prospective, high-grade gold belt. The Property was last explored for gold in 1992; subsequently the area became under intense scrutiny by diamond explorers with little interest in the gold potential.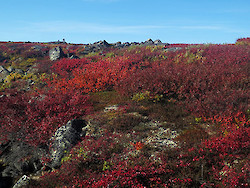 The Property covers the southern portion of the High Lake Greenstone Belt - a gold-rich, underexplored, Archean-age volcanic belt similar to the prolific Red Lake Belt in Ontario. The geology, structure and mineralisation identified on the Hood River Property appears identical to that found at the adjacent Ulu Property. The Hood River Property surrounds the Tenacity diamondiferous kimberlite property presently held by the Kitikmeot Inuit Association.
All work on the Hood River Property can be undertaken utilizing the existing camp and infrastructure located at the Ulu Property resulting in cost and time savings.
Geological Summary
The most recent gold exploration on the Hood River Property, undertaken in 1991 and 1992, included thirty-three diamond drill holes, which tested a variety of targets. Historical drill intersections have been reported in the Property assessment records and include core intercepts of 6.88 metres grading 9.16 grams per tonne ("g/t") gold; 6.03 metres grading 7.31 g/t gold; 1.07 metres grading 10.3 g/t gold and 5.44 metres grading 3.65 g/t gold. Since 1992, gold exploration has been largely idle.
Technical Report on the Hood River Property
Exploration Focus:
The 26 mineralized showings currently identified on the Hood River Property have been grouped into 5 main zones. A summary of some of the historic exploration results, by zone, is as follows:
North Fold Nose ("NFN")
The NFN forms the northern extension of the Ulu Anticline, the hosting structure of the best-known part of the Ulu gold deposit, the Flood Zone.
A 2 km section of this structure on the Hood River Property remains untested; a section between the northern boundary of the Ulu Property and the north tip of anticline exposure on the Hood River Property.
Previous drilling by BHP Billiton at the north tip of this structure returned an intersection of 9.16 g/t gold over 6.88 metres. Although recommended, no step out drilling was undertaken.
Crown Zone ("CZ"):
The CZ is a composite of five individual areas.
The larger, "Main Area" was trenched by BHP Billiton whose best reported trench sample was 24.3 g/t gold over 0.7 metres.
Recent sampling of this site by Inukshuk Exploration returned 13.47 g/t gold over 2 metres.
The Main Area is exposed for 800 metres with widths of up to 6 metres. It remains open to the north.
Penthouse South Zone ("PSZ")
Structurally equivalent to the geological setting of the Ulu gold deposit.
At the Penthouse South Zone, a 2 metre wide shear zone has been traced by BHP Billiton for over 200 metres. A selected grab sample, the only known sample from this shear zone, has been reported to contain 200.09 g/t gold.
Several quartz veins up to 1 metre wide have been identified at PSZ. Grab samples on these veins at PSZ have returned assays up to 62.18 g/t gold.
At PSZ volcanogenic massive sulphide mineralization has been identified in pods.
Penthouse North Zone ("PNZ")
At the PNZ, a 0.1 metre to 0.5 metre wide shear zone was traced by BHP Billiton for over 250 metres. One sample from this area returned an assay of 130.1 g/t gold.
The Penthouse North and South Zones are located approximately 3 km apart and are separated by a topographically subdued valley with no outcrop.
Blackridge Zone ("BRZ"):
A 750 metre long mineralized vein/shear is exposed at this site.
Shallow previous drilling tested only 300 metres of this structure on strike.
The best core drill intersection returned an assay of 10.3 g/t gold over 1.07 metres.
A 1.0 metre chip sample across this structure returned an assay of 21.58 g/t gold.
It is believed there is significant potential to extend the structure to the north.
Surface grab samples have returned assays up to 16.8 g/t gold.
The Technical Information on the Hood River Property has been prepared in accordance with Canadian Regulatory requirements as set out in NI 43-101. The technical information was reviewed by Warren Robb, P. Geo., a Qualified Person for the purposes of NI 43-101.